Did You Know? (2)
10 Nature Facts :
•A bear has 42 teeth!
•85% of plant life is found in the ocean!
•A lobdster's blood is colorless but when exposed to oxygen it turns blue!
•Reindeer truly love bananas!
•The longest recorded flight of a chicken was 13 seconds!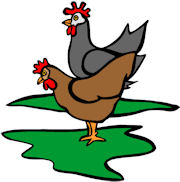 •A cat has 32 muscles in each ear and over 100 vocal hordes!
•Koalas sleep for about 18 hours a day!
•All insects have 6 legs!
•Frogs can't swallow with their eyes opened!
•A crocodile can't move its tongue!
---
How interesting!
Hope you enjoyed
Kisses!!
PS. Information from www.did-you-knows.com