Hey bloggers!!
How are you today?
I know..I haven't made any posts since 10th June!!
I'm sorry for that..
You see, I went to Peraia (Thessaloniki) and I had no internet
But yesterday I came back home and..here I am!
So, today I'd like to talk to you about my Summer Holidays!
Where did I go and where I will go!
First of all, as you all know, I went to SKOURAS Camp!
I had a great time there, as always!
I made new friends, I went to the beach, I totally enjoyed it a lot!
When the summer camp was over, I went to Peraia and stayed there for almost four weeks and came back yesterday!
It was really nice! I had lots of fun playing with my brother at the sea and going for walks at the evening!
Even though my summer time is just awesome 'til now, the best is only few days away!
On Sunday I will pack my suitcase 'cause I am going to..
..to Syros!
Syros is a beautiful island that I've always wanted to visit and it's gonna be like a "dream come true" for me!
I'm sure we will all have the time for our lives..!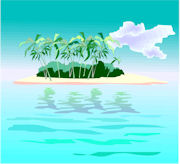 How about you?
Where are you planning do go this week?
I'd love to know!!
Kisses!!