Hey bloggers!!
How are you??
Today I had a very tiring day at school..
Did you??
Well, if you want to know, now I am like..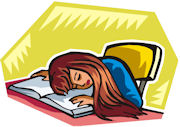 I have to study Mathematics, History, Geography and European Music..
What??
What is European Music??
Oh! I didn't tell you the most important thing!!
I am going at the..
Musical High School of Thessaloniki
Here is its website :
You can find out all about our celebrations, some news ofthe school, etc.
(Click on the picture to visit it)
Well, I should study now, right??
Nahhh..
Anyway, kisses!!